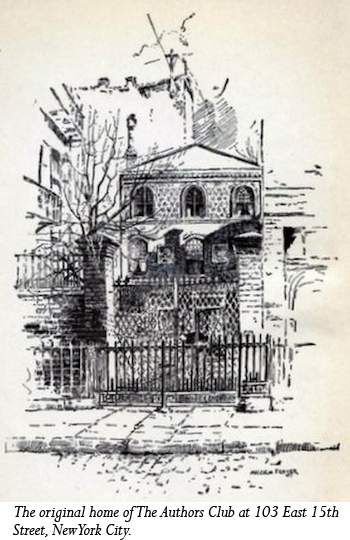 Carnegie Fund for Authors came into existence through an organization known as The Authors Club, founded in New York City in 1882. Its members included Stephen Crane, Oliver Wendell Holmes, and Mark Twain. Only American authors were accepted for membership, but honorary members included Matthew Arnold, Thomas Hardy, and Robert Louis Stevenson.
Aside from its literary pursuits, The Authors Club held money for the sole purpose of helping distressed members. In 1890 Andrew Carnegie gave the Club a gift of $10,000 to be used "for the relief of literary Men or Women or their families." In 1903, Mr. Carnegie proffered a second gift of $10,000, and the separate fund became known as the Carnegie Fund of The Authors Club. In 1908 a third gift of $30,000 was made, and a final gift of $200,000 came in 1918, under a bequest in Mr. Carnegie's will.
In 1924, the constitution of The Authors Club was revised to state that the Trustees of the Carnegie Fund shall have charge of the fund in regard to its investment, conservation, and distribution, reiterating its mission of offering assistance to authors or their families in pecuniary need. By 1942, the Carnegie Fund for Authors had become an entity separate from The Authors Club.
We are delighted that the Carnegie Fund for Authors is still fulfilling its original mission of serving authors in need. The Authors Club, which has since disbanded, awarded the New York Public Library its Collection of materials: correspondence, poems, speeches, essays, documents, and photographs of American and European authors, historians, and public figures.